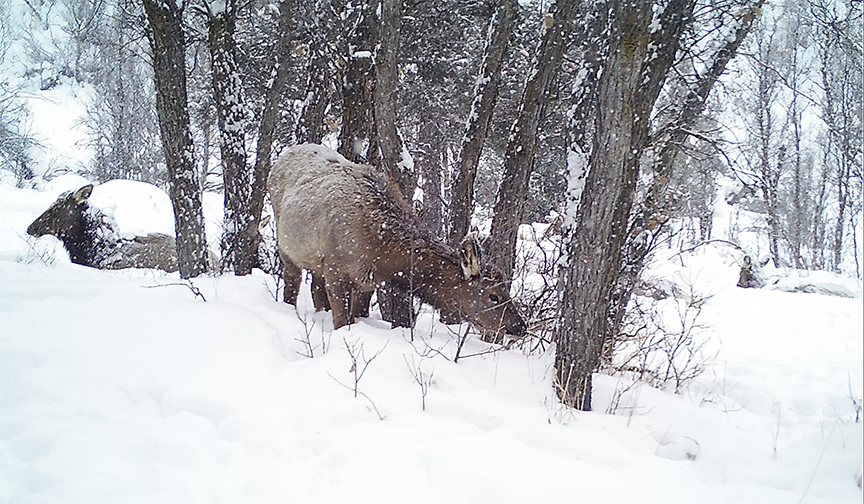 Behind locked gates and closure signs, hidden in dense oak brush and muffled by deepening snow, Sky Mountain Park is busy – not with the throngs of mountain bikers, hikers and runners who cruise its trails during the summer months, but with wildlife.
The same holds true at other properties that are closed each winter season. In the absence of human presence, animals big and small are on the prowl, hunting prey or pawing for the buried vegetation they need to survive, heaving their way through belly-deep drifts, running from predators, and resting in the snow even as it piles up on top of them and night-time temperatures drop into the frigid zone. Properties such as Sky Mountain Park, Glassier Open Space and others are closed seasonally to give animals the space they need to survive the harshest months of the year without expending energy in reaction to human intrusions.
The unseen struggle only comes to light in the spring, when properties reopen to human visitors and Pitkin County Open Space and Trails harvests the memory cards from motion-triggered cameras that it places on various trails. The cameras help document wildlife activity on open spaces and in the national forest, but they also provide a glimpse into an otherwise unseen world.
Out of hundreds of photographs snapped by more than a dozen cameras, OST has assembled a few highlights, all taken during the heart of winter 2019-2020, that may offer a sense of what's going on now in some of our favorite places. Enjoy.
Video link: Wildlife in winter
– By Pitkin County Open Space and Trails