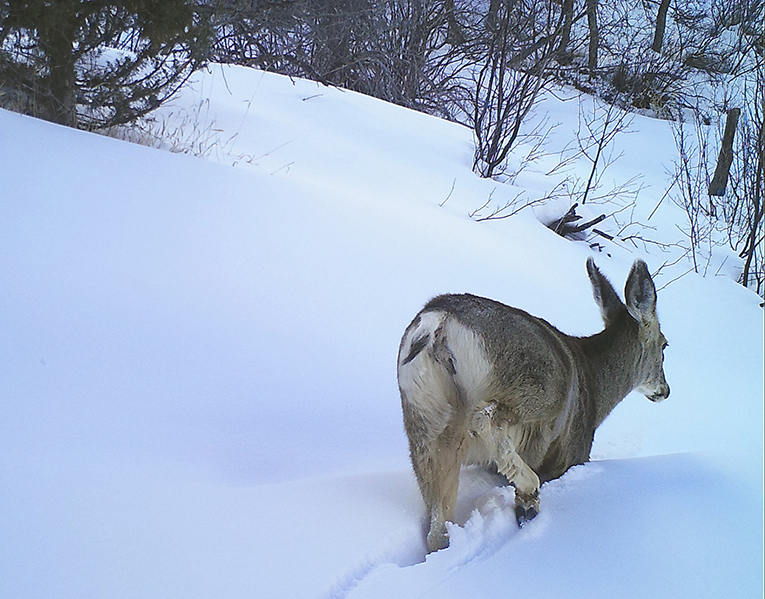 Roughly half of Pitkin County's open space lands are closed seasonally or, in a few cases, entirely, for the protection of wildlife.
Wintertime closures typically start in December, when snows begin to accumulate and temperatures drop.  While black bears hibernate, other large mammals must forage and move about through deepening snow, taxing their energy reserves during the harshest months of the year.  In addition, the females are often pregnant with young that will be born in the spring or early summer, adding to the challenge of finding enough to eat as shrubs and grasses disappear beneath the snow.  The absence of humans means elk, deer, bighorn sheep and other species don't have to expend energy unnecessarily in reaction to human presence.
On Pitkin County open spaces, seasonal closures are determined by management plans that have been adopted for individual properties.  The plans are developed in consultation with Colorado Parks and Wildlife, other partner agencies to Pitkin County Open Space and Trails, and the public.  Management plans have set Dec. 1 as the winter closure date for much of Sky Mountain Park, Glassier Open Space, Red Wind Point Open Space, the Perham Creek Trailhead, the Brush Creek Trail and other properties.
Sky Mountain Park and Glassier Open Space both reopen to human use on May 16.  Other properties and trails open sooner.  Filoha Meadows Nature Preserve, on the other hand, is closed from Oct. 1 through June 30 – the longest seasonal closure on any county open space parcel.  Elk calving habitat on the property is the reason for the delayed opening of July 1 at Filoha, while its geothermal properties make the early fall closure beneficial to animals that seek forage in meadows that boast a natural snowmelt system.  Herds of bighorn sheep and elk often gather at Filoha during the wintertime.
While humans are away, Open Space and Trails keeps tabs on properties via motion-triggered wildlife cameras.  Typically, the cameras are readied for the winter with fresh batteries and memory cards in the waning days of November and left alone until properties reopen in the spring.  The images they produce tell a story of each winter, recording the timing of big snows, early thaws and the movement of wildlife.  When winter snows are deep on the ridge atop Sky Mountain Park, for example, a camera there may record few animals, while a camera in a more sheltered area, lower in the park, snaps more photos.
When snow accumulates early in the high country, elk move down to open spaces earlier in the fall and the first of them start appearing on the cameras in September.  When spring comes early, elk start disappearing from the camera images earlier than they do when winter lingers.
Since an animal wandering past a camera is a random act, and since the same animal may pass by a camera repeatedly (or never), accurate population estimates based on camera data isn't possible.  The cameras do, however, confirm that a wide range of species make use of open spaces, whether year-round or during the winter months.
Elk, deer, bears, mountain lions and bobcats, moose, coyotes and foxes, and smaller animals such as rabbits, raccoons, skunks, martens and short-tailed weasels (ermines), along with the occasional bird, have all been caught on camera.
Monitoring wildlife in this fashion helps guide Open Space and Trails in managing its properties to the benefit of both human and wild users.  And, the wildlife photos confirm the importance Pitkin County citizens place on the preservation of open spaces.