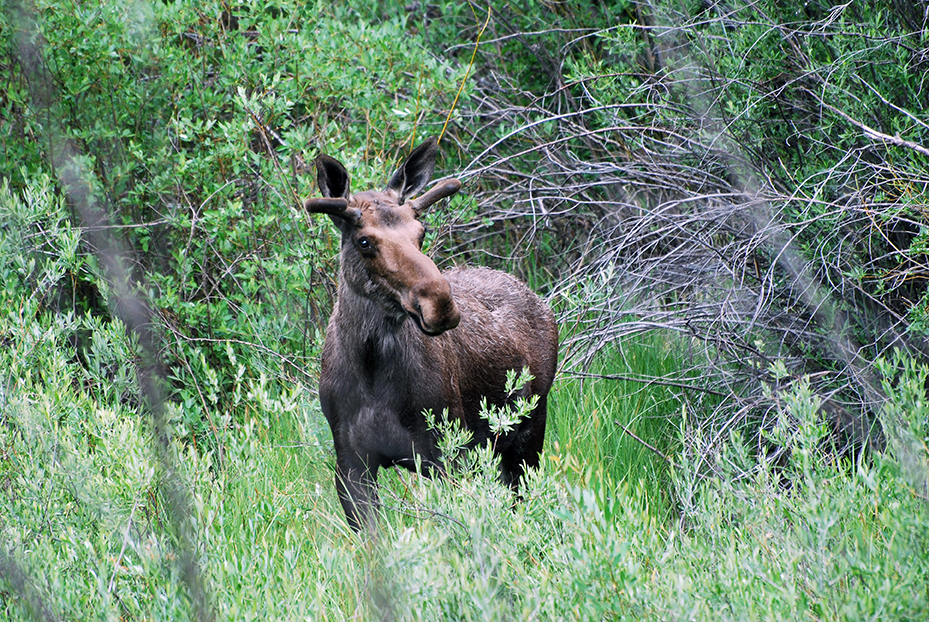 Moose aren't native to Colorado and the Roaring Fork Valley, but you'd never know it.
They're the largest member of the deer family and found throughout the northern regions of North America, but historical records dating back to the 1850s indicate only the occasional, transient moose wandered into northern Colorado from Wyoming, according to Colorado Parks and Wildlife. They did not establish a breeding population.
State wildlife officials first began considering bringing moose (Alces alces) to Colorado in the 1950s, but it wasn't until 1978 that 24 male and female moose from Wyoming and Utah were brought to the North Park area of Colorado to create a breeding population and hunting opportunities, according to CPW. Additional reintroduction efforts followed around the state, including the release of 91 moose in the Grand Mesa National Forest, to the west of the Roaring Fork and Crystal River valleys, in 2005-2007. It was only a matter of time until the animals began wandering in our direction.
At first, local moose sightings were sporadic – a bull moose startled a couple of anglers in the Fryingpan River in 2007. Another one was spotted in Missouri Heights at about the same time. In 2008, a young bull moose attracted a crowd when it strolled into the parking lot at the Orchard Plaza shopping complex in El Jebel, having wandered more than 50 miles from the Grand Mesa. CPW tranquilized the animal and returned it to the Mesa. These and other sightings were generally celebrated as exhilarating interactions with a species that many Coloradans had never seen before.
By 2010, sightings were increasingly frequent, thanks in part to a pair of female moose that took up residence in the vicinity of Maroon Lake near Aspen. Trackable by their ear tags, the cows were identified as siblings that were transplanted from Utah to an area southeast of Gunnison after their mother was injured and had to be euthanized. The young cows made their way north to Aspen, some 40 miles distant. Nature being what it is, a bull found his way to the Maroon Creek drainage in 2012 and by the following spring, there were moose calves at Maroon Lake. The animals have made a place for themselves at the scenic tourist hotspot ever since.
Proceed with caution in moose country
With some 3,000 moose now inhabiting Colorado, including an unknown number in Pitkin County, interactions with moose are becoming commonplace and, occasionally, scary. Moose are the state's largest wildlife species and the most dangerous. Adults weigh 800 to 1,200 pounds and bulls stand up to 6 feet tall at the shoulder. They may live up to 20 years in the wild.
Though their countenance (they look to be smiling!) and behavior sometimes make moose appear pleasantly docile, they are unpredictable animals that behave aggressively when they perceive a threat. Because dogs remind moose of wolves, one of their only natural predators, moose attacks on humans often involve dogs, according to CPW. Keeping dogs leashed while hiking is important for the protection of all involved in a moose encounter.
The best approach in dealing with a moose is to not approach. CPW suggests the "rule of thumb" measure – if you see a moose, stick your thumb out at arm's length. If the thumb covers the moose, you are theoretically a safe distance away. If you surprise a moose, back away slowly. If the moose licks its snout, pins its ears back or raises the hackles on its neck and back, it may be ready to charge. You cannot outrun a moose (unless you can run 35 miles per hour). Instead, put something large between you and the moose – a stout tree trunk, a boulder, a car, etc. If a moose attacks, it attempts to stomp its intended target, be it a dog or a human.
New reality at North Star
Pitkin County's North Star Nature Preserve is perfect moose habitat, and the animals are seen regularly there. While a float down the Roaring Fork River through North Star has become a popular pastime during the summer months, the Preserve is managed first and foremost for wildlife.
This year, new signage will warn river users about the potential for moose encounters at North Star and the risks such interactions pose. Open Space and Trails rangers may close access to the Preserve in the event of aggressive moose behavior.
River users would be wise to leave their dogs at home during North Star floats. Dogs are required to remain on the watercraft if they accompany their humans on a float. Encountering moose during a float is entirely possible and since humans, too, are required to stay on their watercraft, be prepared to stop a safe distance from a moose – 100 yards, or the length of a football field, is advisable – and wait until the animal moves on. It could be a long wait.
Moose are an exciting addition to the watchable wildlife at North Star and elsewhere, but they demand a new level of caution in the pursuit of outdoor recreation. Below are helpful links in learning how to live with moose, provided by Colorado Parks and Wildlife.
Worth a look…
Living with wildlife in moose country
Moose hunting
Within the Roaring Fork Valley, only the state's Game Management Unit 43 has moose licenses available. The unit covers an area south of the Roaring Fork River from roughly Glenwood Springs to Castle Creek near Aspen.
One bull tag has been made available for each of the past three years and a bull was harvested in two of those years.
Moose hunting takes place in September and October. Discussions about opening other area units to moose hunting have taken place, but there is no timeline for that expansion, according to the CPW.
By Pitkin County Open Space and Trails