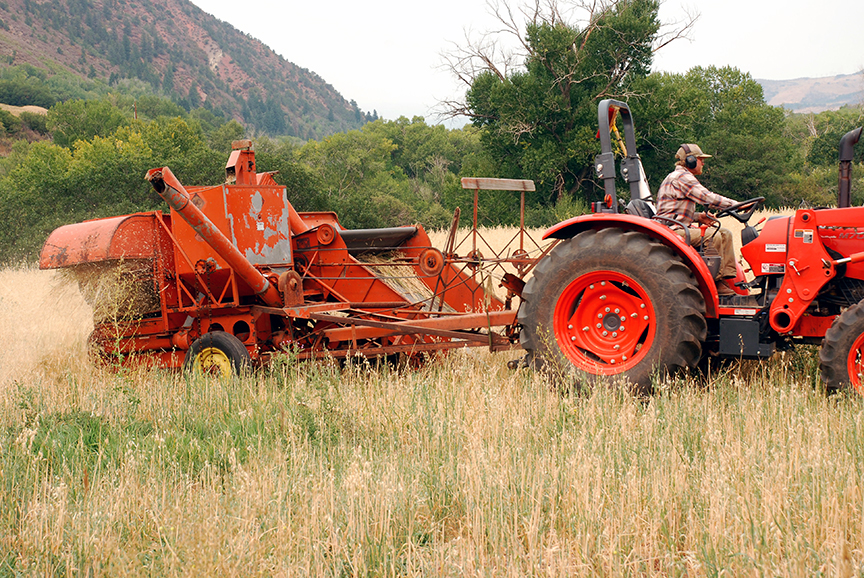 A recent oat harvest at Pitkin County's Lazy Glen Open Space wasn't so much a signal of something new in local agriculture as it was a nod to something old.
Could grains, once a key component of the Roaring Fork Valley's agricultural landscape, make a comeback? They can if Shining Mountains Farm owner Cooper Means has anything to say about it. His farm holds an agricultural lease on the open space.
A couple of years ago, Means and his friends could be seen swinging scythes at Lazy Glen to harvest a small crop of rye that was milled in Paonia and destined for bread served at a Farm to Table meal presented by the Farm Collaborative (based at the city of Aspen's Cozy Point Ranch). A season of field peas followed.
This year, a roughly 70-year-old combine was added to the Collaborative's collection of shared farm machinery. The combine, so named because it combined the labors of cutting, threshing and cleaning grain as it moved over a field, has been replaced by the giant machines of large-scale industrial agriculture, but it was just right for the 4 acres of cream-colored oats waving in the wind at Lazy Glen. Purchased out of the Midwest, it rattled to life at Lazy Glen. Oats were harvested despite some mechanical hiccups.
Means is experimenting with grain crops in a valley where historical knowledge of what works and what doesn't has largely been lost. There is no one to ask about what variety to plant, for example. Hence, another part of Lazy Glen was devoted to 10 types of hops this season, to find out which would produce the best crop. That determination has yet to be made.
Means' reasoning: Supply the missing piece in the local food scene. "We've got a lot of local meat, local vegetables are really well supported in this valley and there's a lot of progress to be made but a lot of progress has been made. The missing piece is the grains, the local grains," he said.
Oats and other grains were a local staple a century ago, though. There was a mill in Glenwood Springs and harvests often made headlines. Jote Smith's ranch on Brush Creek made news in the Rocky Mountain Sun in 1885. "He has this year 90 acres of oats, of heavy yield, part of which will go 60 bushels to the acre. He will have between 3,500 and 4,000 bushels of oats from this field. This crop is worth $6,000 at least," the newspaper reported. Meanwhile, Elmer Chatfield of Emma cut 10 acres of oats "that are an extraordinary yield thought to go 60 bushels to the acre," according to the Sun. The Aspen Times reported specimens grains on display at the newspaper's office that would "open the eyes of farmers in the eastern states," including heads of oats 23 inches in length, heads of wheat 7 inches in length and heads of barley eight inches in length.
The oat crop at Lazy Glen produced about 9,000 pounds or 280 bushels. That's 70 bushels per acre – a very good yield, Means declared. It beat Elmer Chatfield's harvest of 60 bushels per acre back in 1885.
The oats will be used as chicken feed this winter, and Means said he will be at work devising a way to mill some of it in house for rolled and steel-cut oats in his cereal bowl. Meanwhile, the field has been reseeded for next year's experiment – heritage bread wheat.
– By Pitkin County Open Space and Trails