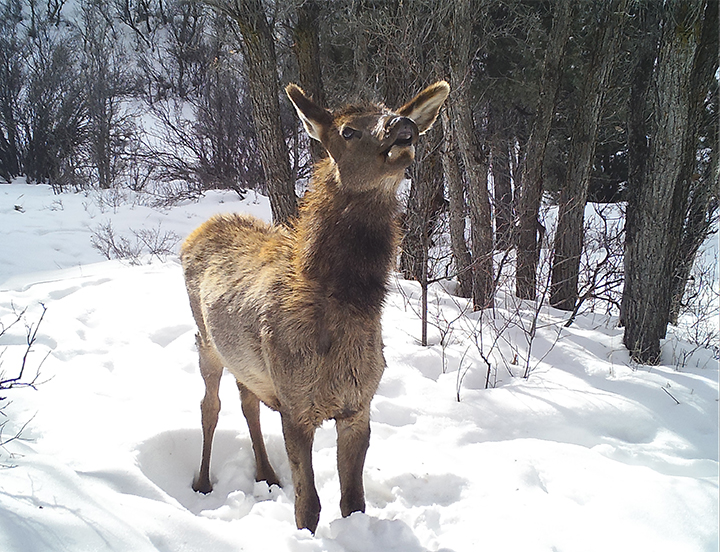 December brings the annual closing of various Pitkin County Open Space and Trails properties for the protection of wintering wildlife.
Sky Mountain Park, Glassier Open Space, Red Wind Point and Wheatley Open Space all closed for the winter on Dec. 1 and will reopen to human use in the spring, while other properties are closed for a much longer period. There is a 9-month closure at Filoha Meadows Nature Preserve, for example, and the west side of North Star Nature Preserve is closed year-round.
During these long stretches of human absence, motion-triggered wildlife cameras help document wildlife activity and provide confirmation that closure periods are properly timed to give animals great and small the space they need to survive the harshest months of the year without expending energy in reaction to human intrusions. At Sky Mountain Park, camera images show animals foraging and maneuvering in the deepening snow. At Filoha, photos of elk calves in the spring confirm the need for the property's lengthy closure.
In other seasons, the cameras help Open Space and Trails monitor human use of trails and determine the types of use that are occurring. Glassier Open Space cameras, for example, show use predominantly by mountain bikers, but also far more trail running and hiking use than was initially anticipated. Equestrian use of the horse-only trail, on the other hand, is relatively light. The cameras also capture violations that can lead to an increased enforcement presence as needed by the Open Space and Trails ranger crew.
Partner organizations, including the Forest Service and Bureau of Land Management, have borrowed OST cameras to keep an eye on Avalanche Creek Road (where there is a wintertime dog closure) and areas of the Crown that are closed to motorized and mechanized (bike) use in the winter. Last winter, the Crown cameras documented mountain lion, and deer and elk activity, but not closure violations.
For the winter of 2019-2020, Open Space and Trails will have at least 14 cameras in place on open space parcels, in addition to cameras located on federal lands. We are experimenting with taking video footage with one of them for the first time.
Spring brings one of the department's favorite tasks – combing through images for the wondrous scenes that play out on our open spaces while we're not there. One of last winter's highlights was the series of photos of an elk calf dropping into the snow for a long nap. When the calf arose, it appeared to stretch and sniff the air (it's the photo above).
Below, we're sharing a few of our favorites from winter's past.
By Pitkin County Open Space and Trails